Below are excerpts from several communications about this L.A. victory.
"The dockworkers (in the Teamsters union) are really upset about 5G being set up at the Port of Los Angeles, they don't want the RF (radiofrequency radiation) exposures nor automation which will do away with jobs. Los Angeles is busily setting up antennas all over the dock areas, and allegedly this is not in their Master Plan. About 500 of them expected to show up at City Hall in Los Angeles." — Susan Brinchman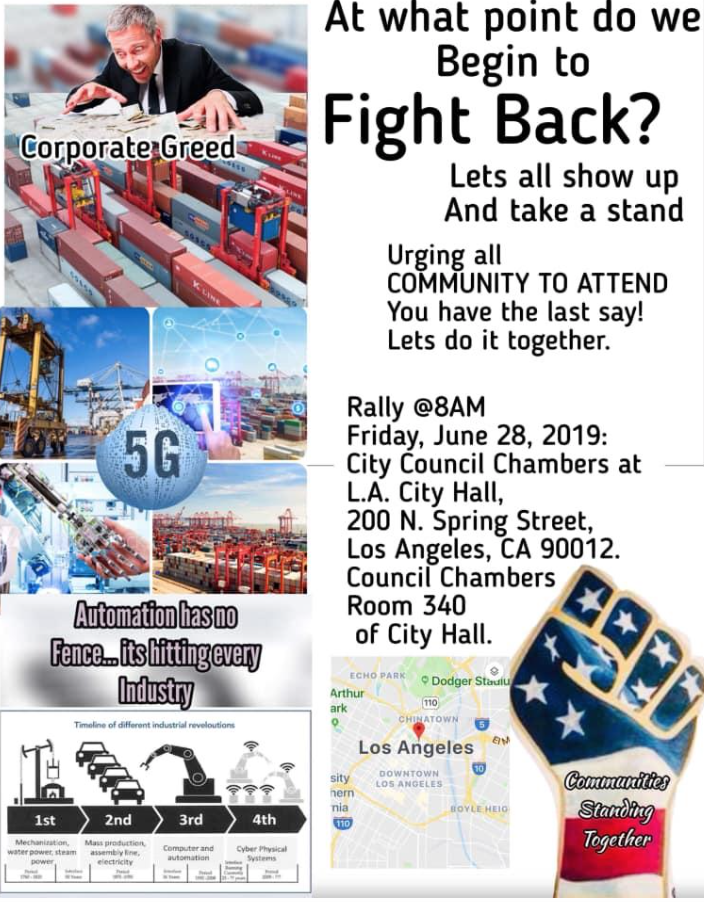 From: 5G Innovators Target Port Logistics
https://www.maritime-executive.com/article/5g-innovators-target-port-logistics
In February, Ericsson and China Unicom announced they are developing a 5G smart port system at the Port of Qingdao in China after completing a technical field trial.

The companies anticipate a reduction of up to 70 percent in labor costs with the 5G automation upgrade. In collaboration with port machinery manufacturer ZPMC, they achieved an automated ship-to-shore crane lift of a container over a 5G connection operated from a control center.
Source Article:
L.A. City Council Votes Down Automation at Some Port of Los Angeles Terminals
https://ktla.com/2019/06/28/l-a-city-council-votes-down-automation-at-some-port-of-los-angeles-terminals/
A victory today! 🙂 Looks like the dockworkers got what they wanted today – no automation, a unanimous vote by Los Angeles City Council https://ktla.com/2019/06/28/l-a-city-council-votes-down-automation-at-some-port-of-los-angeles-terminals/. Will learn more what it means re: the 400 antennas they were getting ready to install for 5G at the docks to facilitate automation.– Susan Brinchman