This is big news.  However, the murders were not "involuntary," but rather purposeful.  The fires were ignited by smart meters and directed energy weapons.  They were not an accident.  And they were not "camp fires", as the lamestream media called them.  Houses were almost completely vaporized while trees next to them were left standing.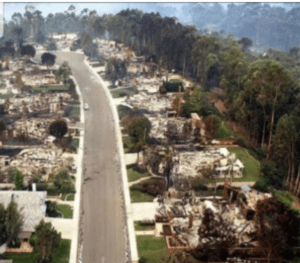 Entire neighborhoods were extinguished while the surrounding woodland was left untouched.

To see some of the incredible footage from these fires, please visit this link.  And know that, in terms of the California fires, there was nothing natural about them.  Rather, they were ignited by the very same communist forces that have set off the current BLM/Antifa riots in America and that are responsible for the rollout of this radiation grid that is destined to destroy millions of lives.  These creatures will not rest until they believe they have all of America under their control.  And here they are, bailing out the PG&E murderers in a bankruptcy deal.
Disgusting.
'A historic moment': PG&E pleads guilty to involuntary manslaughter, as judge plans to greenlight bankruptcy plan
Dive Brief:
U.S. Bankruptcy Judge Dennis Montali intends to greenlight Pacific Gas & Electric's (PG&E) reorganization plan, he said at a hearing Tuesday — as the company pleaded guilty to 84 counts of involuntary manslaughter connected to the 2018 Camp Fire at a separate court

PG&E is headed out the door of bankruptcy "a much better place to … deal with its vast problems, including the billions and billions and billions of dollars of damage that it caused," Montali said. He may conduct a hearing soon to fine-tune the language of his order confirming its plan.

Meanwhile, PG&E Corp. President and CEO Bill Johnson appeared before a Northern California county court and acknowledged the "pain and anguish" of victims of the 2018 Camp Fire. "I make this plea with great sadness and regret, and with eyes wide open to what happened and to what must never happen again," he said.
Dive Insight:
The Camp Fire, which was sparked by a PG&E transmission line in Butte County, Northern California, burned across more than 153,000 acres of the state, destroyed nearly 19,000 structures and resulted in 85 civilian fatalities. The utility filed for bankruptcy soon after, estimating that it faced billions of dollars of liability connected to that fire as well as previous wildfires caused by its infrastructure.
In March, the company announced that it had agreed to plead guilty to 84 counts of involuntary manslaughter and pay $4 million in fines as part of a settlement with the Butte County district attorney. At a county court hearing on Tuesday, Johnson, on behalf of the company, entered a guilty plea to each of the counts as the names of the victims were read out.
Johnson — who intends to retire from PG&E after it exits bankruptcy — apologized personally and on behalf of the utility for the pain caused by the Camp Fire.
"We can't replace all that the fire destroyed, but we do hope by pleading guilty, by accepting accountability, by compensating the victims, supporting rebuilding and making significant lasting changes to the way we operate, we can honor those who were lost and help this community move forward," he said.
The hearing will continue over several days this week with victim impact statements, and a possible sentencing on Friday.
"This was a historic moment, and hopefully a historic moment for corporate America to know that prosecutors wherever will not allow them to get away with recklessly endangering the lives of the citizens that they serve," Butte County District Attorney Michael Ramsey said at a press conference after the hearing.
Meanwhile, Montali told lawyers on Tuesday that he will conclude PG&E's reorganization plan should be confirmed. The plan would compensate victims of the Northern California wildfires through a $13.5 billion fund — built of cash and company stock — as well as an additional $12 billion in payments to insurance companies and local government entities affected by the fires. Montali intends to issue a written decision addressing some of the "big issues" and then might schedule a hearing to discuss the language of his eventual order confirming the plan.
He also allowed PG&E to modify the equity backstop commitment letters that the court initially approved in March, in light of the market turmoil caused by the COVID-19 pandemic. Those commitment letters dictate that PG&E could only conduct a market offering at a price of $18 or $19 per share, PG&E said in a court filing. But since they were negotiated, the market impact from the COVID-19 pandemic has caused the company's common stock to trade fall to the $11 to $12 range.
Without the amendments, PG&E attorney Paul Zumbro said, the company would have to sell its shares to the backstop parties at $7.50 per share, which "would have a depressing effect on the stock price for all shareholders, including the fire victims trust."
The motion was opposed by some of the fire victims, including William Abrams, a survivor of the 2017 Tubbs Fire.
[snip]