* * * * * *

https://rumble.com/vtgp10-acute-radiation-sickness-causes-flu-like-symptoms-covid.html
* * * * * *
Note – this article is a work-in-progress.  As new information comes to my attention, I will add it to the article if appropriate.
Please also register in the sidebar to the right for updates about my books, "Are Wireless Devices Really Safe" and "The Ultrasound-Autism Connection".
* * * * * *
Let me get right to the point.  Anyone that is denying the link between this allegedly deadly "virus" and the symptoms associated with radiation sickness should not be trusted.
The evidence is POURING in that people are, indeed, getting sick from wireless radiation.
THE PROBLEM IS NOT JUST 5G.
ALL TYPES OF MANMADE RADIATION ARE HARMFUL including ultrasonic radiation, radiowaves, microwaves, and millimeter waves – and that includes 2G, 3G, 4G, and 5G.
The symptoms people are experiencing that are being attributed to a "virus" are the exact same symptoms of radiation sickness. Just look at these symptoms!

Respiratory problems are also being associated with this virus, but in fact, are much more likely to be caused by exposure to 4G devices and also 5G (see below for a slew of information regarding the 60 GHz 5G frequency interfering with the body's ability to absorb oxygen).
Listen to the woman below describe her symptoms, all of which are clearly signs of RADIATION SICKNESS but that the medical establishment is claiming are the result of a virus.  From a facebook post.  Link not provided.
Back in March, right before everything shut down in my state, my husband went to lunch with a friend. A few days later, his friend started feeling very sick. A few days after that, my husband started feeling slightly sick for a day or two himself, and then I got brutally ill. His friend called later that week to tell us he tested positive for COVID. I spent weeks thinking I was actually going to die. I couldn't get tested anywhere no matter how sick I was, and when I could barely breathe my doctor told me "whatever you do, don't go to the hospital" . There were several nights where my husband packed my things for the hospital and watched me to see if I would get to a critical enough state that he needed to call 911. I was close so many times, but I'm here, and I'm suffering long term symptoms. I'm a "long hauler". One thing I noticed is that my fingers feel like they're getting chemical burns when I use my touch screen or phone for longer than a few minutes at a time. I would honestly believe my skin was actually starting to blister, and I would constantly check my hands to find out everything was in tact and unharmed. I work from my computer, and I noticed that at the end of the day I would start getting severe stroke-like symptoms. On the days I wasn't using my computer much, I would be mostly fine. My mom and aunt ordered those gun sensor thermometers, and I HATE THEM. I keep telling them to stop checking my temp with them because they feel like they're burrowing a hole into my brain. It sets me off. They think I'm insane. I had let them check my baby a couple times with it, but now I'm terrified of it. I don't want it anywhere near my baby's head. I notice when I'm able to take gentle walks with my baby, the closer I get to certain areas the more stroke-like symptoms I get. I was walking with my husband yesterday and I couldn't finish my conversation. I started having severe nerve pain, walking diagonally, dim vision, severe headache, slurred speech. We went to the shore and the only time I seem to feel well is in the morning on the beach, so sometimes I just go to the beach with my phone in airplane mode and sit in the sand for a while not touching any electronics. My brain and whole body feels like it's buzzing all the time. I do genuinely believe I've suffered severe nerve and vascular damage from this, and now I'm painfully sensitive to electronics. I can feel when electronics turn on in my house. My husband loves the air fryer, and I have to make sure I'm a safe distance away from it or I get awful headaches. I mean, I have way more going on than just this, but I notice my stroke-like symptoms only seem to happen or become more severe around electronics or EMFs. It's a nightmare… honestly. I don't know what I'm looking for here, but I just needed to vent.
And note that children, too, are becoming ill with symptoms of radiation sickness that the lying medical establishment is calling a "virus" or "Kawasaki disease."
Children are appearing with "multi-system inflammation with flu-like symptoms," and "with blood parameters consistent with severe COVID-19." The children may be agitated, confused, have severe difficulty breathing, have seizures, low blood pressure, inflammation of the heart, abdominal pain, skin rash and, especially in teenage boys, testicular pain. The disease is being called a variant of either toxic shock syndrome or Kawasaki disease. But the symptoms are all classic effects of radio wave sickness.
Arthur Firstenberg – Source
Friends, I believe there is a MASSIVE cover-up happening right now and if we do not expose it, then shame on us.  Several studies have already demonstrated a connection between the 5G rollout and the prevalence of "COVID 19" (see here, here, and here).
Frankly, I DON'T THINK THERE IS ANY DEADLY VIRUS AND THE VIRUS STORY IS NOT ONLY A COMPLETE FABRICATION, BUT A REVERSAL OF TRUTH.  The facts are below.  Please share widely.
============================================
Note:  This information was originally published on Jan 31, 2020 and has been repeatedly updated.
============================================
Dear friends – alot of information has been circulating around the internet regarding the alleged  "coronavirus pandemic" that started in China.
Alarmist headlines began almost immediately, such as this one from Alex Jones' Infowars:
and this one from Mike Adams of Natural News:
Yet Alex Jones is now screaming that COVID-19 is a hoax – and this is occurring just a few months after he instigated so much fear concerning this non-existent virus.  I received this headline in my email today (6/11/20).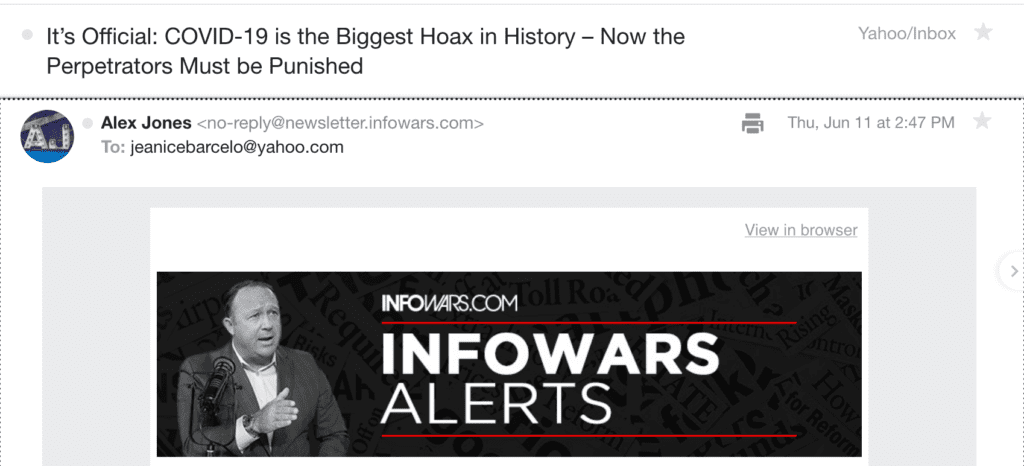 The World Health Organization declared a "Global Coronavirus Pandemic" at a time when there were allegedly 4,250 deaths WORLDWIDE from the virus.  The United States declared the coronavirus to be a "public health emergency" in January of 2020 when there was not a single death registered from this fake virus in America.  In fact, as of March 2020, only 110 people in the U.S. were alleged to have died from the virus.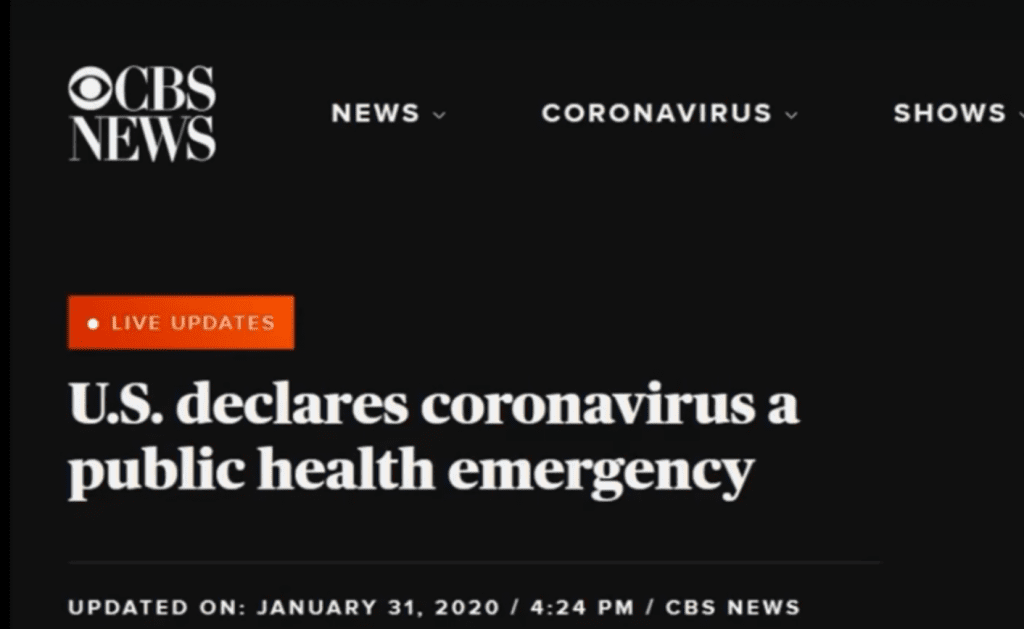 The speed with which the  emergency declarations were made, combined with the fact that there was no emergency, clearly indicate that this "viral pandemic" is completely fictitious and something else is going on.
Of course, the dark ones are gearing up to introduce yet another allegedly "life-saving" vaccine, and they are rubbing their hands together with glee, imagining that this latest "viral pandemic" will be the one that will finally enable them to mandate vaccines around the globe.
The CDC produced test kits that were contaminated with a lab-created coronavirus.  UK tests were also contaminated.  Canada also was caught with contaminated test kits.  And if that were not enough, the tests are completely bogus anyway and do not really detect any virus.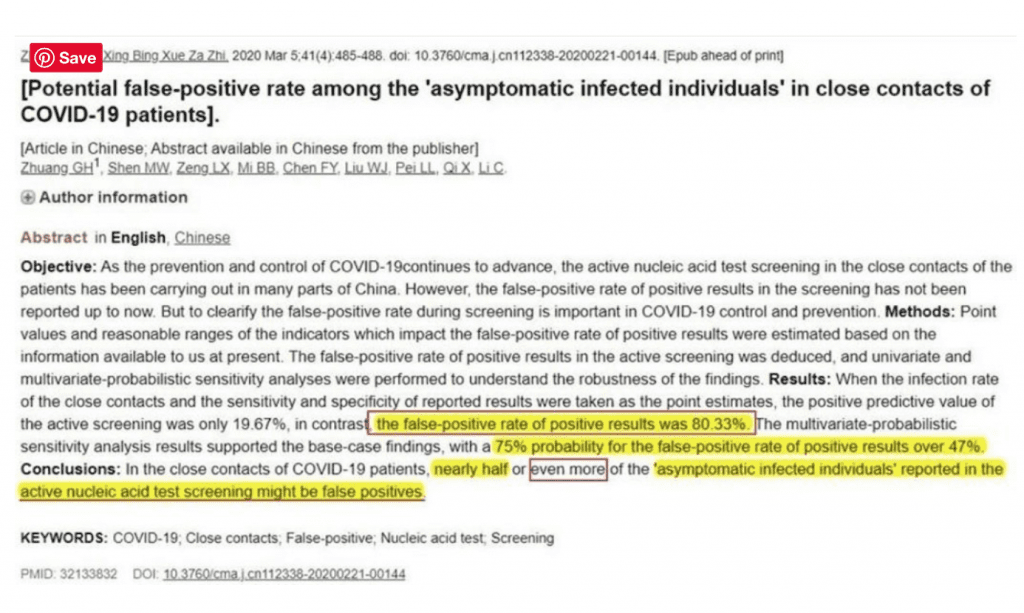 Source
What is happening is that people are developing various symptoms of radiation sickness and governments worldwide are blaming it on a fictitious virus.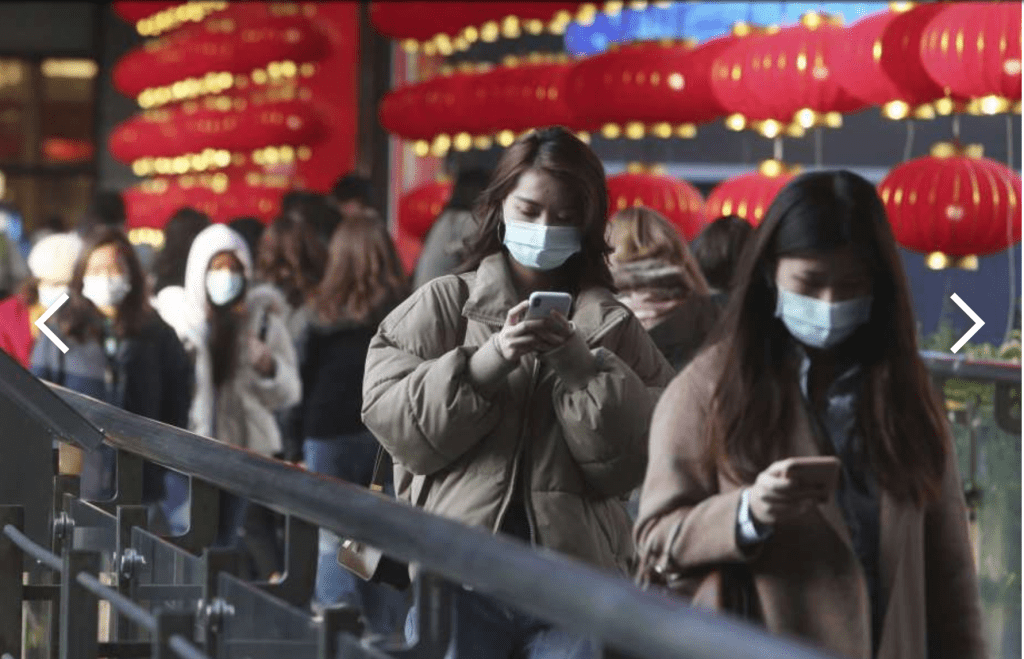 Notice how all of these people have their faces in their phones.  The people believe that wearing masks will somehow protect them from a non-existent viral threat.  Yet, in Truth, their radiation-emitting devices are responsible for weakening their immune systems and making them more vulnerable to becoming deathly ill.
It is important to note that the dark ones have been planning to unleash this so-called "viral" threat for decades.  The images you are about to see are what is called "revelation of the method" — the process by which the psychopathic "elite" tell us ahead of time what they plan to do.  They make these announcements ahead of time because, in their warped and twisted minds, they believe if they tell us what they are going to do and we do not object, then they have our tacit or implied consent and therefore, cannot be held spiritually accountable or liable for the harm they cause since we did not object.
Behold the insanity of those who deviously plan over decades and centuries about the ways they intend to harm us and/or gain control over us.  This book was published in 1981.
"Koontz" has apparently written many books under various pseudonyms.  And so it was the case with The Eyes of Darkness, which was originally released in 1981 under the fake name of Leigh Nichols.  Not only does this book mention a "bioweapon" from Wuhan, China, but on the very next page, also mentions the "ebola virus" from Africa.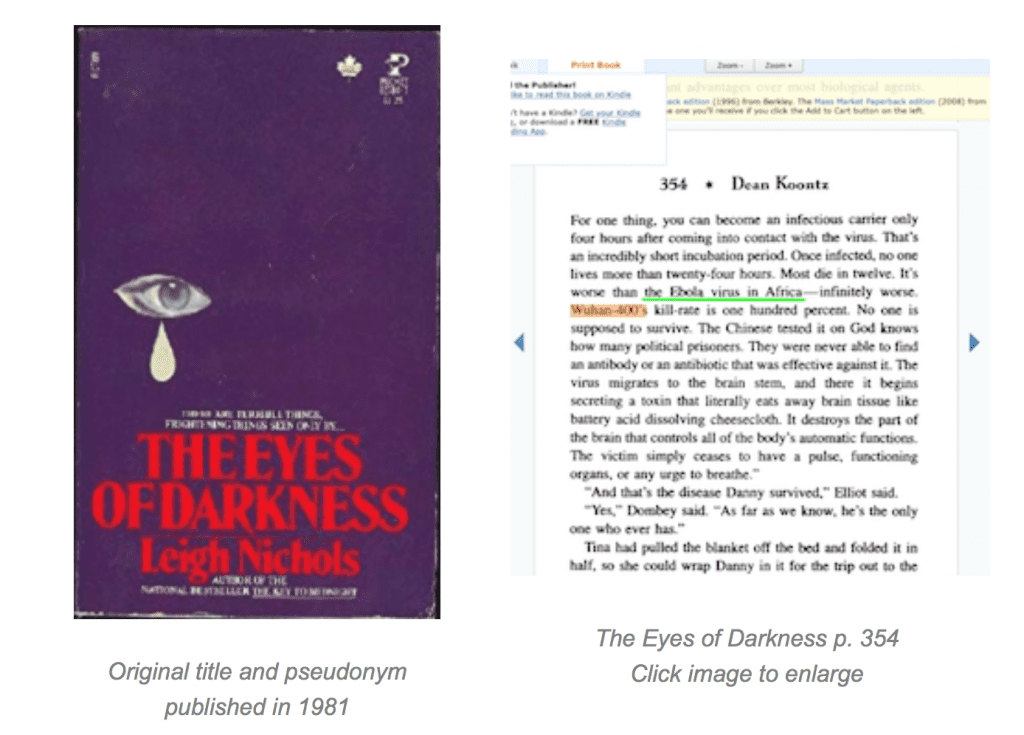 Even more interesting is the fact Dean Koontz is not the only author to 'predict' this nasty "virus."  According to The Sun Daily, author Sylvia Browne published a book in 2008 called End of Days: Predictions and Prophecies About the End of the World.  Check out her "prediction"!!!!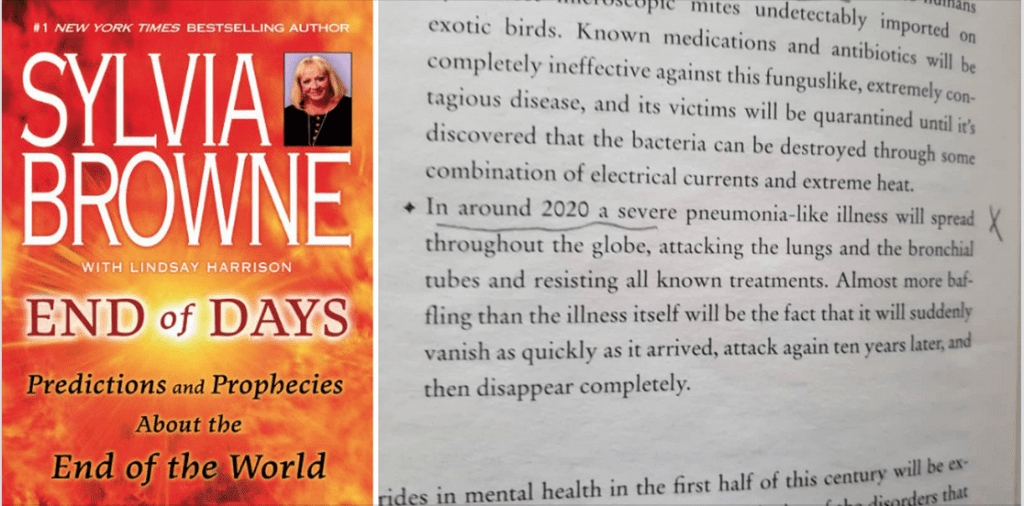 Source: The Sun Daily
On top of all of this, the psycopaths actually staged a pandemic "exercise" (otherwise called a drill) called Event 201 in New York in October of 2019.
Event 201 was a 3.5-hour pandemic tabletop exercise that simulated a series of dramatic, scenario-based facilitated discussions, confronting difficult, true-to-life dilemmas associated with response to a hypothetical, but scientifically plausible, pandemic. 15 global business, government, and public health leaders were players in the simulation exercise that highlighted unresolved real-world policy and economic issues that could be solved with sufficient political will, financial investment, and attention now and in the future.

The exercise consisted of pre-recorded news broadcasts, live "staff" briefings, and moderated discussions on specific topics. These issues were carefully designed in a compelling narrative that educated the participants and the audience.
Source
And… 10,000 military personnel from 110 nations gathered in Wuhan, China on the exact same day for the "2019 Military World Games"!
One aspect which is very interesting and has been covered extensively here, is Event 201. The pandemic exercise simulating a global Coronavirus pandemic which took place on October 18th 2019 only 6 weeks before the first case of the virus was reported in Wuhan China. What not many people are talking about, is that on this exact same day, October 18th, the 2019 Military World Games held its opening ceremony followed by a U.S. mens soccer match in Wuhan China, ground zero of the outbreak!
Source
You cannot make this stuff up folks!  They have been planning this hollywood-style plannedemic for a long time. And now it is clear, they are planning to air another round in the fall of 2020.

Expect coronavirus to return in the fall, says Fauci
https://youtu.be/IM3sIf7aMfU
What these psychopaths are actually doing is literally causing illness with their microwave and millimeter weapons, while simultaneously hiding the real cause of the illnesses people are suffering by claiming they are due to a "virus."
==================================================================
So let's take a moment to decode the word "coronavirus", and notice first that the word "virus" means "poison"and the word "corona" is used to describe the RADIATION FIELD that is sometimes emitted by high voltage devices!  (See here, here and here for more info).
Thus the word CORONAVIRUS literally means RADIATION POISONING!
This is a corona!
MY GOODNESS! Look at this video from Chris Fitzmorris in Kenner 😳😳😳😳 @wdsu pic.twitter.com/TOXx9qptYb

— Christina Watkins (@CWatkinsWESH) February 15, 2021
A corona discharge is an electrical discharge brought on by the ionization of a fluid such as air surrounding a conductor that is electrically charged. Spontaneous corona discharges occur naturally in high-voltage systems unless care is taken to limit the electric field strength… In many high voltage applications, corona is an unwanted side effect. Corona discharge from high voltage electric power transmission lines constitutes an economically significant waste of energy for utilities. In high voltage equipment like Cathode Ray Tube televisions, radio transmitters, X-ray machines, and particle accelerators the current leakage caused by coronas can constitute an unwanted load on the circuit. In the air, coronas generate gases such as ozone (O3) and nitric oxide (NO), and in turn, nitrogen dioxide (NO2), and thus nitric acid (HNO3) if water vapor is present. These gases are corrosive and can degrade and embrittle nearby materials, and are also toxic to humans and the environment.
Source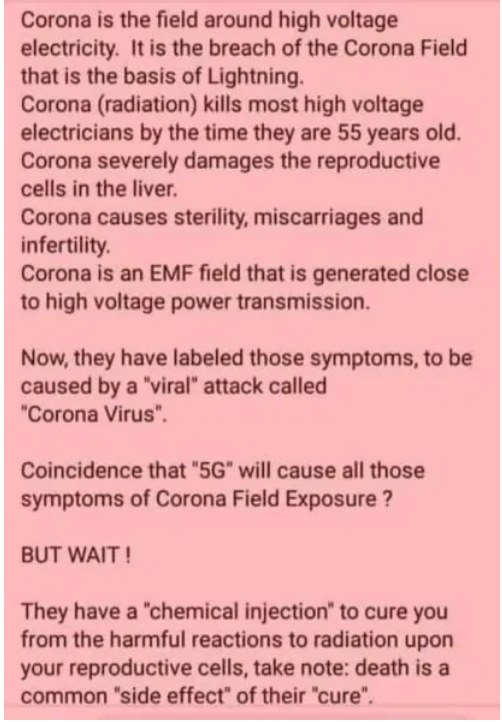 Source
Is it just a coincidence then that the symptoms of this "virus" match precisely the symptoms of radiation sickness which symptoms are no doubt being brought on by increased cell tower density and the 5G rollout which has happened in Wuhan (see here and here) and other parts of China.  See also here for a plethora of information about the radiation situation in China.
Look at this picture analysis of what is happening with the 5G roll-out in America and the places where people have gotten sick with this "virus."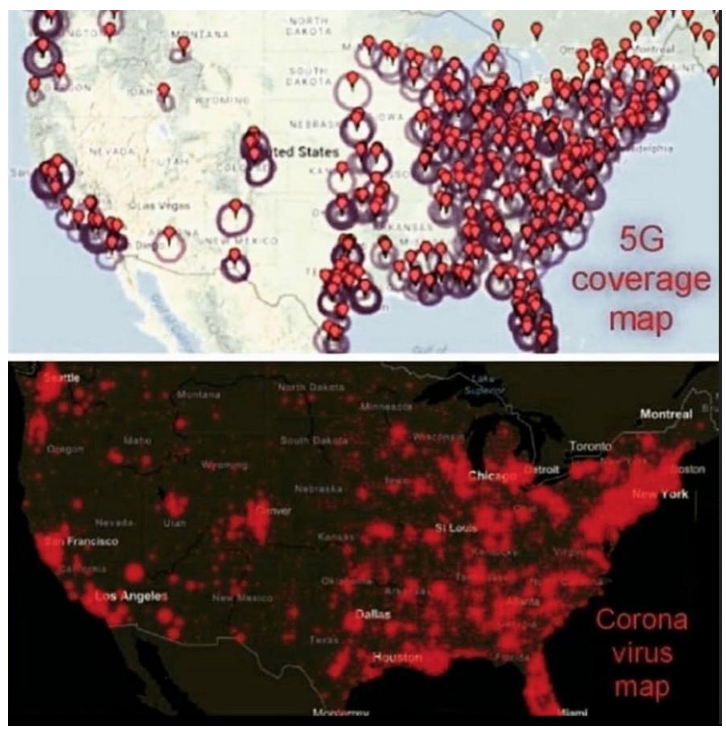 Claire Edwards has documented this brilliantly in the following images.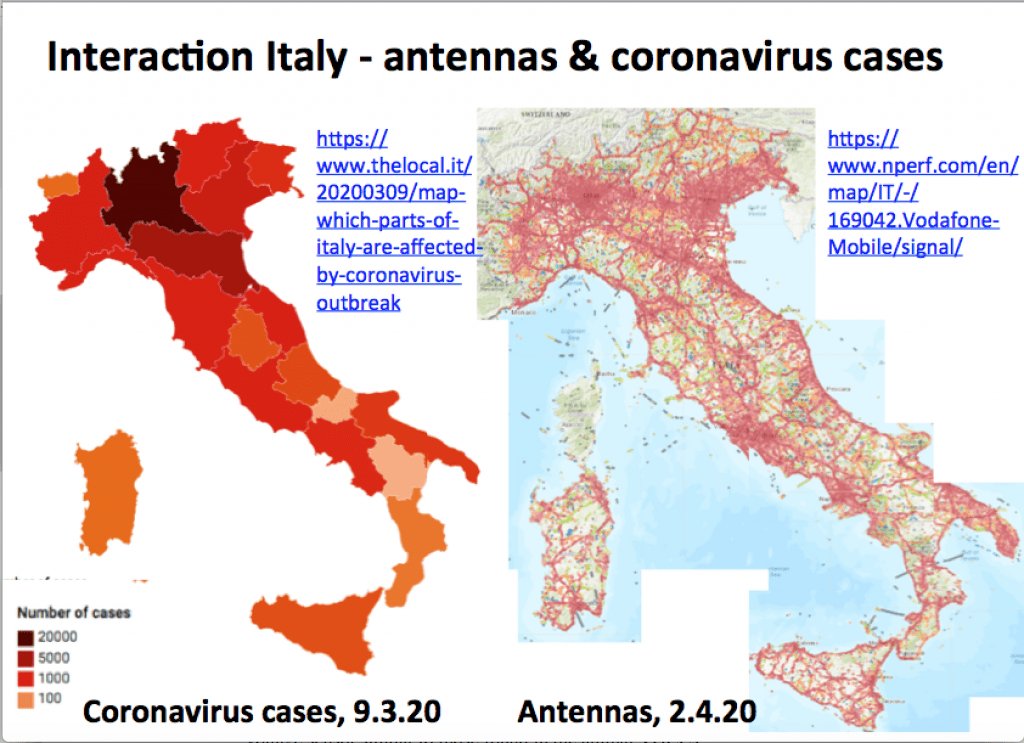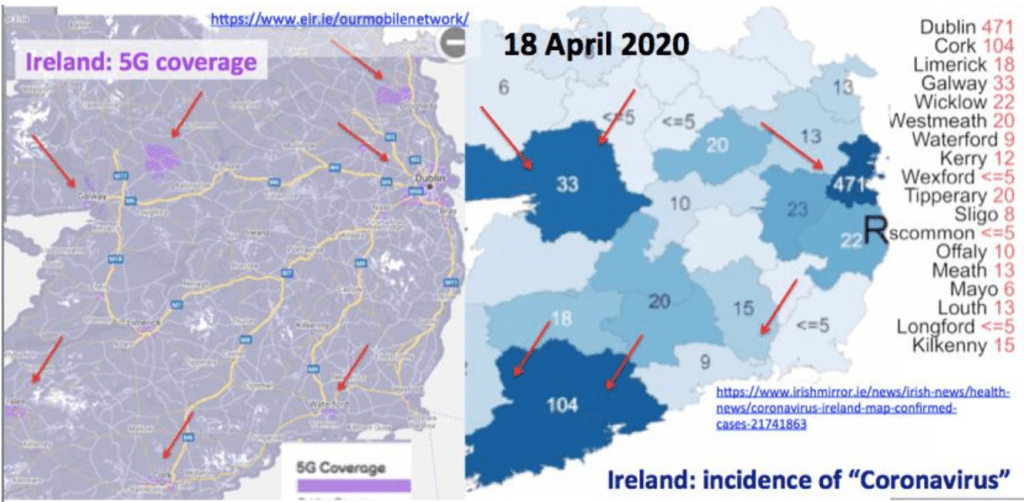 The mainstream media and the powers-that-shouldn't-be will never tell us the Truth about this.  Instead, they will babble on about an allegedly dangerous virus, while simultaneously presenting us with bogus ideas about so-called "climate change" so that nobody will ever suspect that any warming of our planet is likely due to radiation heat from increased cell tower density along with billions of wireless microwave devices (microwaves do COOK things), or that any epidemics we experience over the next 5-15 years are going to be related to radiation poisoning from exposure to increasing densities of noxious, non-ionizing radiation.
So let's begin at the beginning.  But first, here's a comment I recently made on a youtube video that is being censored…
Since 5G frequencies are known to negatively effect the absorption of oxygen in the cells and the body (see here and here);

And since all of the symptoms they are reporting are also listed as the very same symptoms associated with "microwave sickness" (i.e., radiation illness which can be induced from exposure to all wireless devices, including 4G devices — see here /microwave-sickness/);

And since "the flu" and microwave illness share many of the same symptoms (see here: /microwave-sickness/the-flu-and-microwave-sickness-share-many-of-the-same-symptoms/);

And since "the flu" has been shown to NOT be the result of a "virus" but rather an electrically-induced illness (see Arthur Firstenberg's book, "The Invisible Rainbow");

It is a fair estimation to assume that wherever 5G is being rolled out, people are going to rapidly become deathly ill. Wake up people. The entire wireless grid is designed to destroy us. They will blame these radiation-induced illnesses on a variety of things, but one thing they will not do is tell you that your devices and your entire wireless society are the problem. You have to figure this out on your own.

Please see my book for much more information about this: https://www.birthofanewearth.com/1/paperback-release-the-dark-side-of-prenatal-ultrasound/

People wearing masks is obviously not going to protect them from radiation-induced illnesses. Avoidance of radiation and/or radiation-shielded clothing are the only things that work.
1.  5G IS ACTIVELY BEING DEPLOYED IN WUHAN.
"WUHAN — Central China's Hubei province has built more than 300 5G base stations and achieved full 5G signal coverage in its prefecture-level cities, local telecom sources said.

The China Mobile's Hubei branch said more than 300 5G base stations have been built since February 2018, and a dozen 5G experience centers have been completed in cities including Xiaogan, Yichang and Jingmen."
Source
===================
"So far, China Mobile has installed 100 5G base stations in Wuhan, the capital of Hubei, and is launching large-scale tests, according to Fan Bingheng, general manager of the company's Hubei branch."
Source
===================
China, in its rush to take the lead in the 5G race, had by the end of 2019… installed 130,000 5G antennas throughout the country,[19] with 10,000 antennas installed in Wuhan alone.[20]…

China already has a total of more than 80,000 5G macro base stations, typically cellular towers with antennas and other hardware that beam wireless signals over wide areas, government officials said. They said China will end the year with about 130,000, while Bernstein Research estimates South Korea will be in second place with 75,000… 


This basically means that China had suddenly turned on the 5G switch, just less than two months before the COVID-19 outbreak, suddenly blanketing many cities with this 5G wireless radiation. And as of this writing, South Korea's numbers of COVID-19 cases are also starting to skyrocket. As we can see from the above article, South Korea has the second highest number of 5G antennas with 75,000. That is a lot for a country its size. Is there a connection? I think there is."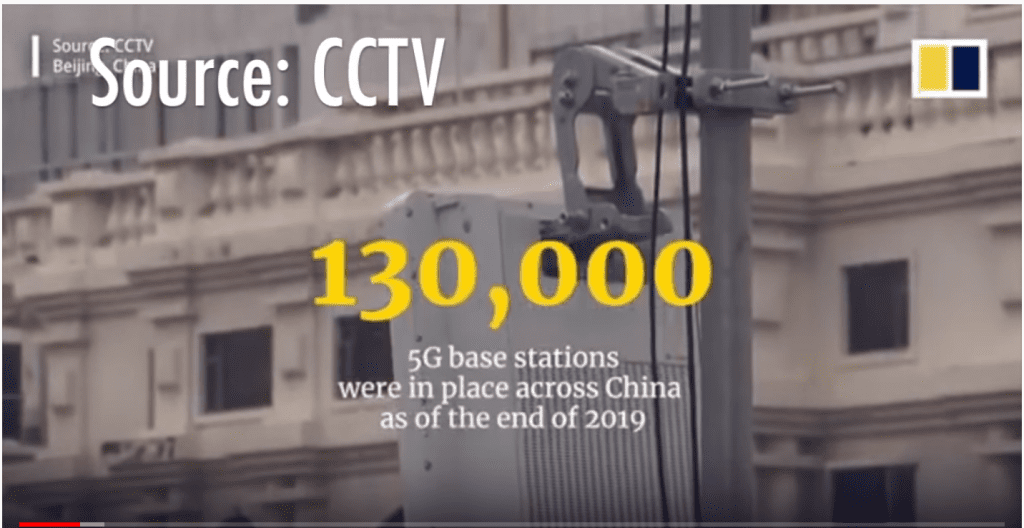 2. 5G FREQUENCIES ARE KNOWN TO CAUSE SEVERE DISRUPTIONS IN THE BODY'S ABILITY TO ABSORB AND UTILIZE OXYGEN.
"The FCC has opened up the millimeter wave band and they're going to be broadcasting at 60 GHz… for the new 5G and the new Wifi. It's called wi-gig… This stuff is wicked. 60GHz is the oxygen molecule absorption spectrum… This is the frequency that the oxygen molecules start reacting to… They're gonna be using 5G to mess with oxygen… When you hit oxygen molecules with 60GHz millimeter emissions, it effects the orbital properties of the electrons… [This will affect] how oxygen is absorbed into your body… When you start effecting the oxygen molecules' ability to bind with the hemoglobin in the blood, you can't transport the oxygen into your tissues… It also effects your ability to produce Vitamin D. There are two locations in the United States where this was rolled out in schools. It produced paralysis, arrhythmia, neurological problems, problems with tingling in the extremities, people passing out, people having fatigue, malaise, all these bizarre ailments. These people have managed to get you to kill yourselves, and enjoy it, and kill your children, and pay for it."
Source
=======================
"60 GHz… gets stuck in air. It doesn't travel well at all. So it's a bit bizarre that Ofcom [Office of Communications in the UK] are going to give [that part of the spectrum] away… If I was to blast enough 60 GHz amplitude into an oxygen molecule, I might break it. And that oxygen atom will attach with other oxygen molecules and create 03. 03 kills. At 50ppm, it will kill all biological life. So it's a bit bizarre that Ofcom would even want anyone to use this part of the spectrum—nevermind giving it away."
Source
"We are just beginning to recognize that Covid pneumonia initially causes a form of oxygen deprivation we call "silent hypoxia" — "silent" because of its insidious, hard-to-detect nature…

Pneumonia is an infection of the lungs in which the air sacs fill with fluid or pus. Normally, patients develop chest discomfort, pain with breathing and other breathing problems. But when Covid pneumonia first strikes, patients don't feel short of breath, even as their oxygen levels fall. And by the time they do, they have alarmingly low oxygen levels and moderate-to-severe pneumonia (as seen on chest X-rays). Normal oxygen saturation for most persons at sea level is 94 percent to 100 percent; Covid pneumonia patients I saw had oxygen saturations as low as 50 percent."
Source
Please watch this short video of a New York City ICU doctor explaining what he is seeing with respect to his "coronavirus" patients.
"It is as if tens of thousands of my fellow New Yorkers are on a plane at 30,000 feet and the cabin pressure is slowly being let out. Patients are slowly being starved of oxygen."

https://www.bitchute.com/video/i1lCAUEcMtlg/
This is NOT typical pneumonia symptoms! In fact, this is exactly what can and will happen when people are exposed to the 60GHz 5G frequency. Keep in mind that 5G has been unleashed in NYC (see here and here). And also in Italy. Please see this link for details about the 5G rollout in Italy.
The past 48 hours or so have seen a huge revelation: COVID-19 causes prolonged and progressive hypoxia (starving your body of oxygen) by binding to the heme groups in hemoglobin in your red blood cells. People are simply desaturating (losing o2 in their blood), and that's what eventually leads to organ failures that kill them… Patients returning for re-hospitalization days or weeks after recovery suffering from apparent delayed post-hypoxic leukoencephalopathy strengthen the notion COVID-19 patients are suffering from hypoxia despite no signs of respiratory 'tire out' or fatigue.
Source
The POINT we would like to emphasize here- where the Dr notes in the hospital -Kirkland,WA where the death rate went to about 60% – not only was the area leading 5G rollout – also the level of wifi electrosmog measured there was highest they had ever measured. It has also been suggested not only was Wuhan leading 5G rollout- but also that Princess cruise ship- was rolling out 5G. (major cities leading the rollout -lead the deaths??) – We are finally getting a bit of biophysics depth here on how the hi ghz in the 5G causes oxygen loss in the blood / viral susceptibility – intro: https://www.youtube.com/watch?v=CtfqUtW_8AA… I suggest when we calculate the biophysics of the electron spin rates at the oxygen bond sites on the hemoglobin- we will find why when the critical ghz in 5G electrosmog densities go over a certain threshold the electron spin excitation necessary to phase lock the oxygen bond is inhibited. Harald says that happened near Berlin when they launched the extra microsatelites to boost the 5G saturation.
Source
3. THE "CORONAVIRUS" IS CLAIMED TO PRODUCE "ATYPICAL PNEUMONIA" AND SEVERE RESPIRATORY DISTRESS THAT HAS LED TO DEATH.
"It started with a light cough. He burped constantly, and complained of shortness of breath… The doctor said he seemed to have heart problems and suggested him to stay in the hospital. He appeared healthy except for a minor infection in one lung area.  Two weeks later, he was dead, with both lungs infected and organ failure. His doctors at the Wuhan Jinyintan Hospital determined the cause of death as "unknown pneumonia." It was days before Chinese health authorities identified the cause of the new viral pneumonia as 2019-nCoV, a coronavirus that first emerged in December in the commercial city of Wuhan, his home city."
Source
=======================
"Coronaviruses are types of viruses that typically affect the respiratory tract of mammals, including humans. They are associated with the common cold, pneumonia, and severe acute respiratory syndrome (SARS) and can also affect the gut."
Source
=======================
"The symptoms of corona virus initially mimic the flu—fever, headache, cough, fatigue and muscle aches. The 41 patients admitted to the hospital all developed pneumonia."
Source
=======================
4.  ALL RADIATION-EMITTING FREQUENCIES — INCLUDING THOSE IN THE RADIO, MICROWAVE AND MILLIMETER RANGE (3G, 4G, and 5G) — CAN CAUSE SEVERE RESPIRATORY DISTRESS.
"In the first study of its kind, scientists strapped magnetic field monitors on pregnant women to determine their level of exposure, and studied whether it was associated with the risk of asthma in their children. They found that children born to women with the highest levels of exposure to electromagnetic fields (EMF) — including from microwaves, hair dryers and power lines — had a more than three-fold higher rate of asthma compared to those whose moms had the lowest exposure."
Source
=======================================================
"The irradiation inhibited the oxygen consumption rate by the mitochondria… and slowed down the rate of respiration upon exhaustion of the ATP."
Source: N.P. Zalyubovskaya, Biological Effect of Millimeter Radiowaves, Kiev, Vrachebnoye Delo, in Russian, 1977, No. 3: 116-199.
5.  THE MEDICAL ESTABLISHMENT HAS KNOWN FOR DECADES THAT EXPOSURE TO THEIR SO-CALLED "RADIATION TREATMENTS" CAN LEAD TO PNEUMONIA.
"Radiation pneumonitis is the acute manifestation of radiation-induced lung disease… Symptoms typically include:

cough
dyspnea (exertional or at rest)
low-grade fever
chest discomfort
pleuritic pain"
6. EXPOSURE TO MICROWAVES CAN ALSO LEAD TO VARIOUS FORMS OF LUNG DISEASE AND PNEUMONIA.  SYMPTOMS OF "MICROWAVE ILLNESS" – A CONDITION FIRST DESCRIBED BY THE RUSSIANS IN THE 1970's –  INCLUDE ASTHMA, BRONCHITIS, PNEUMONIA, INFLAMED SINUSES, ETC.  SEE HERE FOR MORE INFO.
NOTE THE SYMPTOMS PEOPLE ARE EXPERIENCING IN CHINA AND COMPARE THESE WITH THE SYMPTOMS LISTED FOR MICROWAVE ILLNESS BELOW.
Symptoms of the coronavirus include a fever, cough, shortness of breath, and breathing difficulties. However, according to Chinese state media, some are not experiencing any of these symptoms and are instead experiencing nausea, diarrhea, tiredness, bad concentration, headache, irregular heartbeat, chest pain, cornea inflammation, and muscular pains in the limbs, back, and waist.
Source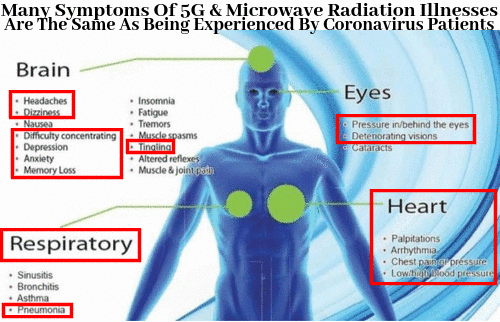 As the NY Post reported in this April 10th story, nearly half of severe covid-19 cases have also shown neurological symptoms including dizziness, headaches and impaired consciousness. And with the Daily Mail reporting in this April 11th story that another very strange symptom people are reporting has been a sort of 'fizzing' or 'buzzing' or 'electrical feeling' upon or underneath their skin, we couldn't help but noticing that all of those 'symptoms' are also symptoms of microwave illnesses…
Source
"Fizzing, electric sensations, heart attacks, and a drowning sensation are only a few of the extremely unorthodox manifestations of COVID-19. So much so that it presents less like a virus and more like radiation poisoning…"
Source
Many [doctors] are also reporting bizarre, unsettling cases that don't seem to follow the textbooks they've trained on. They describe patients with startlingly low oxygen – so low that they would normally be unconscious or near death – talking and swiping on their phones. Asymptomatic pregnant women suddenly in cardiac arrest. Patients who by all conventional measures seem to have mild disease deteriorating within minutes and dying in their homes.
Source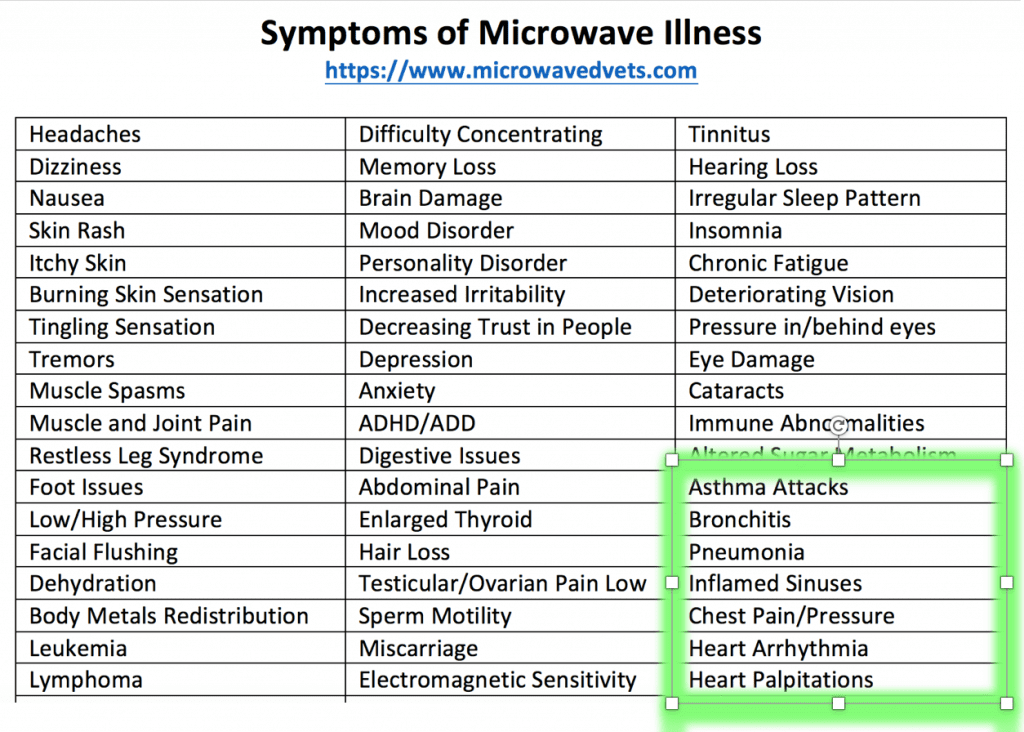 7.  THE SO-CALLED "FLU" AND MICROWAVE ILLNESS SHARE MANY OF THE SAME SYMPTOMS
"As someone who has experienced symptoms of microwave illness first hand (thanks to the installation of a wireless solar system on my home and the simultaneous placement of an "opt‑out" digital smart meter which has since been removed), I can confirm that the above-mentioned symptoms can come on fast and furious and bring a person close to death before a person even realizes what has hit him or her.  Within a year of having the solar wifi module and digital "opt-out" smart meter put on our house, one family member developed severe skin rashes, hair loss, chronic mouth ulcers, and twice went into respiratory failure.  Another family member suffered from rapid onset memory loss, balance problems, chronic leg and muscle cramps, olfactory changes including loss of taste and smell, and thyroid cancer.  I, myself, suffered from "tinnitus," insomnia, abnormal heart function, chronic dizziness and nausea, vision problems, hearing problems, temporary loss of smell and taste, intense headaches, sharp pains and pressure in my head, joint and muscle pain, muscle spasms, feelings of extreme weakness and fatigue that made me feel like I was close to death, and repeated, severe bouts with "the flu."
Source
=======================================================
In my series on the China epidemic (archive here), I've pointed out that pneumonia—the key indicator of the "coronavirus"—can be caused by many other factors… And Chinese authorities no longer require direct testing for the coronavirus. Instead, CT scans of the chest are employed. If these scans show signs of pneumonia, the "coronavirus epidemic" label is absurdly applied to the patient.

I've also pointed out that, historically, pneumonia has been a major disease in China. Long before "the emergence of the new human coronavirus," people in China have been dying of pneumonia at the rate of about 300,000 a year. Now those people, passing away from the disease in 2020, can be falsely called "deadly epidemic cases." How convenient.

Well, it turns out the US Centers for Disease Control (CDC) has been running its own pneumonia scam for a long time.

Some years ago, when I was writing about the flu, I received emails from Peter Doshi and Martin Maloney. They fed me data from the CDC's own charts detailing flu deaths in the US. And they pointed out the lies. Doshi went on to write an analysis for the journal BMJ Online (December 2005). Here is a key quote from his report:

"[According to CDC statistics], 'influenza and pneumonia' took 62,034 lives in 2001—61,777 of which were attributable to pneumonia and 257 to flu, and in only 18 cases was the flu virus positively identified."

You might want to chew on that sentence for a while.

You see, the CDC has created one overall category that combines both flu and pneumonia deaths. THEY CALL THIS CATEGORY "FLU." Why do they do this? Why do they deceptively assert the pneumonia deaths are complications stemming from the flu? Because they want to sell doctors and the public on the "dangers of the flu."
— Jon Rappoport
Source
8.  IN HIS BOOK, "THE INVISIBLE RAINBOW",  ARTHUR FIRSTENBERG ASSERTS THAT THE FLU IS NOT A VIRAL ILLNESS AT ALL, BUT RATHER AN ELECTRICALLY-INDUCED DISEASE!
The speed at which influenza travels, and its random and simultaneous pattern of spread, has perplexed scientists for centuries, and has been the most compelling reason for some to continue to suspect atmospheric electricity as the cause, despite the known presence of an extensively studied virus. Here is a sampling of opinion, old and modern:

Perhaps no disease has ever been observed to affect so many people in so short a time, as the Influenza, almost a whole city, town, or neighborhood becoming affected in a few days, indeed much sooner than could be supposed to spread from contagion.

Mercatus relates, that when it prevailed in Spain, in 1557, the greatest part of the people were seized in one day.

Dr. Glass says, when it was rife in Exeter, in 1729, two thousand were attacked in one night.
Shadrach Ricketson, M.D. (1808), A Brief History of the Influenza:

"The simple fact is to be recollected that this epidemic effects a whole region in the space of a week; nay, a whole continent as large as North America, together with all the West Indies, in the course of a few weeks, where the inhabitants over such vast extent of country, could not, within so short a lapse of a time, have had the least communication or intercourse whatever. This fact alone is sufficient to put all idea of its being propagated by contagion from one individual to another out of the question.
Alexander Jones, M.D. (1827), Philadelphia Journal of the Medical and Physical Sciences:

"Unlike cholera, it outstrips in its course the speed of human intercourse.
Theophilus Thompson, M.D. (1852), Annals of Influenza or Epidemic Catarrhal Fever in Great Britain from 1510 to 1837:

"Contagion alone is inadequate to explain the sudden outbreak of the disease in widely distant countries at the same time, and the curious way in which it has been known to attack the crews of ships at sea, where communication with infected places or persons was out of the question.
Sir Morrel Mackenzie, M.D. (1893), Fortnightly Review

"Usually influenza travels at the same speed as man but at times it apparently breaks out simultaneously in widely separated parts of the globe.
Jorgeen Birkeland (1949), Microbiology and Man'
Source
————————–
WHAT CAUSED THE 1918 "SPANISH INFLUENZA"?

This is not the first time a scare about a viral pandemic has swept the world. We have previously heard predictions — none of which came true — that swine flu, bird flu, SARS, MERS, West Nile virus, Zika virus and Ebola were going to kill millions of people. Notably, all of these scares have occurred after the Internet replaced human contact as the predominant means of communica-tion, and words and pictures on a screen replaced reality. Today, this has gone so far that people are finally willing to shut down the world rather than notice what is going on around them.I do not pretend that there is no basis at all for these predictions. Behind all the hysteria is a fear that the catastrophe that was the "Spanish Influenza" of 1918-1921 will repeat itself. The 1918 flu, after all, sickened one-third of the world's population and killed an estimated fifty million people.

But there are a number of important facts about the 1918 flu that are not widely known:

The 1918 flu was not caused by a virus.
The 1918 flu was not contagious and did not spread by direct human-to-human contact.
The 1918 flu began on U.S. military bases where soldiers were being trained in wireless telegraphy. It spread throughout the world on ten thousand U.S. Navy ships equipped with state-of-the-art wireless stations. It became much more deadly in September 1918 when the first round-the-clock voice radio station powerful enough to be received in most parts of the world went on the air in New Brunswick, New Jersey in service of the U.S. war effort, thereby launching the modern era of radio communication.

Efforts by doctors working for the U.S. Public Health Service to prove the contagious nature of the 1918 flu were heroic and resulted in resounding and repeated failure. In November and December 1918 and in February and March 1919, they attempted to infect one hundred healthy volunteers with influenza in the following ways:

They put secretions from the mouth, nose, throat and bronchi from hospitalized influenza patients into the nose, throat and eyes of volunteers;
They injected blood from sick patients into volunteers;
They filtered mucous material from sick ptients and injected it under the skin of volunteers;
They had volunteers shake hands with sick patients, talk to them, faces close together, for five minutes, then had the patient breathe out as hard as he could while the volunteer, two inches away, was breathing in, then had the patient cough directly into the face of the volunteer, five times.

None of the volunteers in any of these experiments got sick in any way.Similar attempts to infect healthy horses with secretions from horses sick with influenza resulted in the same resounding failure.

These experiments, and other facts about the 1918 flu, as well as about influenza in general, are thoroughly discussed and documented in chapters 7, 8 and 9 of my book, The Invisible Rainbow: A History of Electricity and Life (AGB Press 2017, Chelsea Green 2020).

Historically, influenza was an unpredictable disease that struck without warning and without a schedule and disappeared as suddenly and mysteriously as it had arrived, not to be seen again for years or decades. It did not exist on this earth as an annual disease prior to the worldwide deployment of AC electricity for lights and power that occurred in 1889. Many of the doctors who were flooded with influenza in 1889 had never seen a case before. But influenza has not been absent anywhere on earth since.

What is most difficult for people to let go of is the notion, so deeply engrained in our society, that a disease is the same as a bacteria or a virus. This way of looking at the world, as a battlefied instead of a community, is wrong. Yes, there is a respiratory virus associated with influenza. No, the virus does not cause the disease. Influenza is a neurological disease that can affect almost every organ, with or without respiratory symptoms. It is caused by electricity.
—  Arthur Firstenberg
=======================================================
9.  ALL OF MY RESEARCH ON THE TOPIC OF VIRUSES INDICATES THAT THEY ARE A NATURAL PART OF THE IMMUNE SYSTEM AND ARE NOT HARMFUL!  THEY EMIT SOME TYPE OF CHEMICAL OR SOLVENT THAT HELPS TO BREAK DOWN TOXINS, MAKING THE TOXINS EASIER FOR THE BODY TO RELEASE.
Viruses are pieces of DNA or RNA, with a few other proteins…They happen when the cell is poisoned. They are not the cause of anything…  When your cells get poisoned. They try to purify themselves by excreting debris, which we call viruses…

So, what happened 1918? There was a huge pandemic – and every pandemic in the last 150 years, there was an a quantum leap in the electrification of the Earth, in 1918, late, late fall of 1917, there was the introduction of radio waves around the world.

Whenever you expose any biological system to a new electromagnetic field, you poison it, you kill some and the rest go into a kind of suspended animation, so that interestingly, they live a little bit longer – and sicker.

And then starts in World War Two, with the next pandemic.

With the introduction of radar equipment all over the Earth, blanketing the entire Earth in radar fields, was the first time humans have ever been close to that.

In 1968, there was the Hong Kong Flu and it was the first time the Earth has a protective layer in the Van Allen Belt, which essentially integrates the cosmic fields from the Sun and the Earth from the Moon and Jupiter, etc., integrates that and essentially distributes that to the living beings of the Earth.

And we put satellites emitting radioactive frequencies in the Van Allen Belt. Within six months, we had a viral pandemic. Why viral? Because the people are poisoned. They excrete toxins. They look like viruses. People think it's a flu epidemic…

And I will only finish by pointing out that there has been a dramatic and quantum leap in the last six months with the electrification of the Earth. And I'm sure a lot of you know what that is, it's called: 5G, where there now have 20,000 radiation-emitting satellites, just like the radiation-emitting thing in your pocket and on your wrist and that you use all the time.

That is not compatible with health.

— Thomas Cowan, MD
Source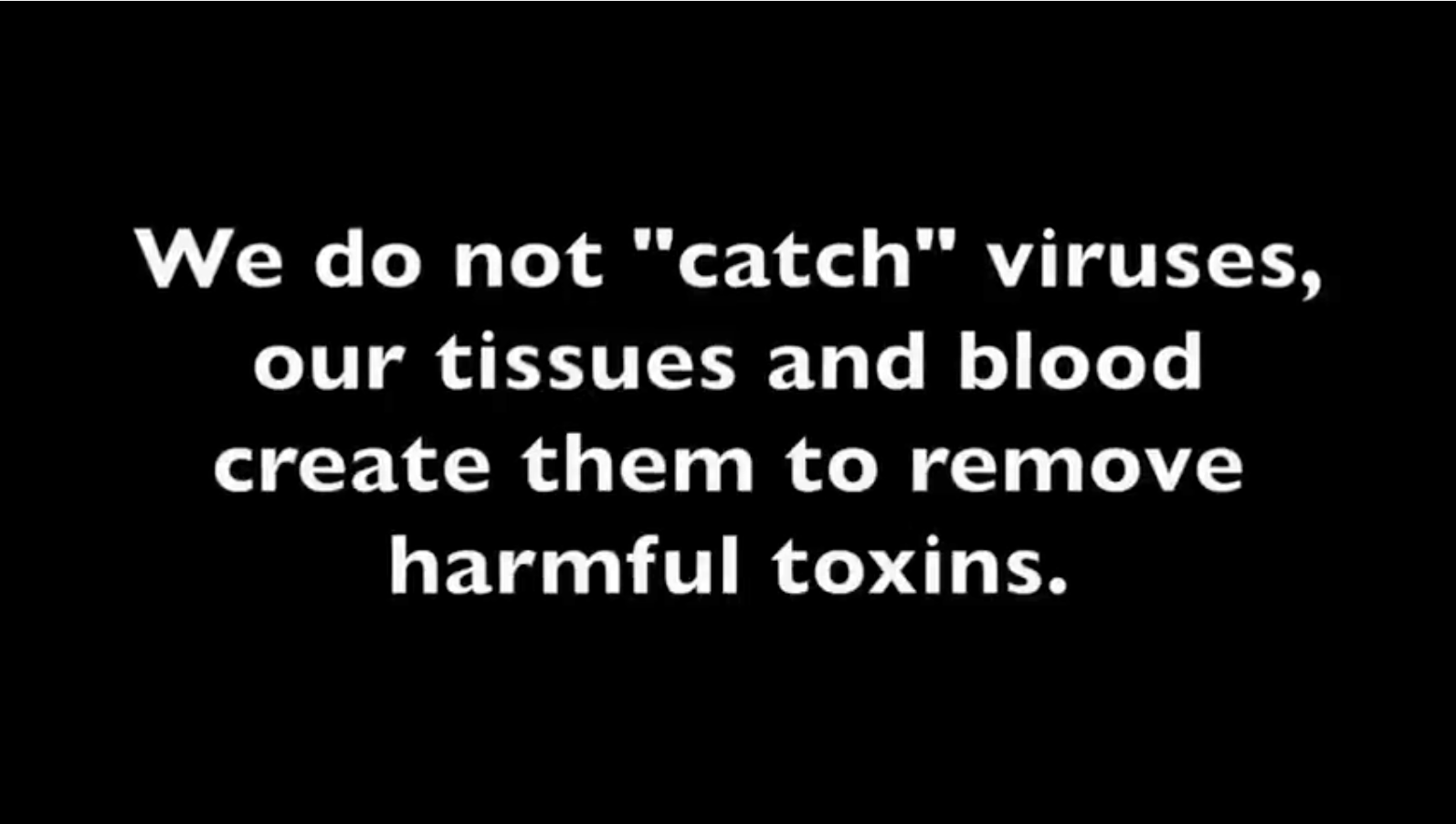 Source
===============================================================
"There is highly convincing evidence that your body actually creates these particles [i.e, viruses] as part of a self-cleaning process.  So it's not a virus that attacks you from outside [and then] robs the DNA from your cell and destroys the cell.  No.  Your body creates these particles…in order to break up damaged cells before they can make the cells next to them ill…  So, that which we've been told are viruses that make you ill are actually particles which your body creates in order to make you well."
Source
===============================================================
"There are very serious questions about whether a variety of viruses have ever been isolated, proven to exist, and proven to be causing disease. An OPEN, lengthy, ongoing, published debate needs to be undertaken among researchers—including independent researchers."
Source

"There is more to discuss along this line… It involves asking the questions, "How do researchers actually isolate a new virus and identify it?" and, "What are the correct standards for proving a particular germ causes a particular disease?" When you ask those questions and pursue the answers, you find yourself wading hip-deep in a swamp. The garbage floating around you is formidable." Source
— Jon Rappaport
===============================================================
Viruses are basically bits of genetic information/material that I think it is fair to say is ALWAYS produced INSIDE our own bodies. They are deployed for all kinds of reasons, genetic information transfer between cells, etc

Janine Roberts book "Fear of the Invisible"
very often they are produced in response to stress and micro-waves, chemicals, etc.
a virus is about a BILLIONTH the size of a normal cell in the body, AND it is not 'alive' it has no metabolism of its own to reproduce or do anything.
this idea of a virus 'mutating' is not accurate. They are constantly different because they are being produced by us in response to different challenges and situations.
— Patrick G.
=================================================================
Joe Imbriano's idea that the virus is the clean-up crew of the body. He says blaming the virus is like blaming the rescue crew at a car accident just because they are always to be found there.
=================================================================
"The Germans were getting ready to announce—and they were on the verge of proving—that viruses have been misdescribed and they are actually electromagnetic in nature… A virus may be better described as an electromagnetic vampire…" Source
— James Lee
==================================================================
From 1933 to the present day, virologists have been unable to present any experimental study proving that influenza spreads through normal contact between people. All attempts to do so have met with failure.
— Arthur Firstenberg
=================================================================
Yes, as shocking as it sounds, even the so called AIDS virus is also a big hoax. AIDS is real of course, but it's not caused by any particular virus. Instead, AIDS is caused by an extremely weakened immune system from recreational drugs to enhance deviant sex, too many antibiotics and other legal drugs, venereal diseases especially from sodomite/deviant sex with many partners over time, and a poor diet in general.  And the drugs to treat people who supposedly are infected with the AIDS virus are also quite deadly, especially chemo drugs like the AZT that they used to use many years ago to treat AIDS.
— JSchmitt
=================================================================
[There are] thousands of cases of AIDS without HIV in the United States alone. Peter Duesberg found 4,621 cases recorded in the literature, 1,691 of them in this country.
— Scientists Charles Thomas, Karen Mullis, and Phillip Johnson
==================================================================
There is no virological, nor epidemiological, evidence to back up the HIV/AIDS hypothesis… The virus is biochemically inactive and harmless. [There real causes of AIDS include] AZT, chemotherapy, radiation and radiation treatment, street drugs like popper and MDMA etc., along with antibiotics which break down the immune system and malnutrition and starvation as seen in Africa. 'These are the causes of AIDS and AIDS is not sexually transmitted and HIV doesn't exist.'"
– Dr. Peter Deusberg
=================================================================
However, for those who have reached the unfortunate yet inevitable conclusion that global crimes and conspiracies not only exist but are in fact one of the major driving factors shaping history, it is dreadfully non-shocking to consider the possibility that there is no HIV or AIDS, and the entire fraud is in reality a global ploy to sell fraudulent drugs, and to hide the true cause of millions of deaths.  Source
— Louis James
And here's an astute observation by Jim Stone:
My original assessment right in the beginning was that the Coronavirus was a basically harmless virus that gave people the sniffles. Now that the cruise ship has played out to more than 550 infected with zero deaths it does not seem plausible that any of it was real…  Tomorrow, Japan is letting everyone on the cruise ship go. Not a single person died or even got seriously sick. There's a hoax somewhere, a hoax with a motive.  Source
— Jim Stone
Here's a short video that explains what viruses are and why you cannot catch or spread a virus.

https://www.brighteon.com/7134f098-46f8-4dd2-bf5a-653b251046f1
11.  IMAGES OF THIS ALLEGED CORONAVIRUS ARE THE EXACT SAME IMAGES THAT WERE USED TO ILLUSTRATE SARS, MERS AND OTHER ALLEGED "COV" VIRUSES. SO IT APPEARS THERE IS NOTHING NEW HERE AT ALL.
I found the corona virus images claimed to be from electron microscopes and they are identical, actually the same exact images used for the Sars and Mers virus scams of the past. They are the same exact images!!!!!!!!!!!!!!!!!
Robert Arnett Otey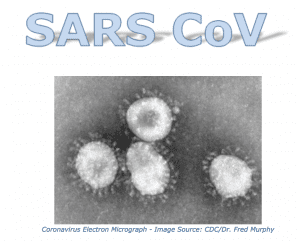 Source: https://www.ncbi.nlm.nih.gov/genomes/SARS/SARS.html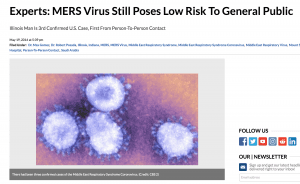 Source: https://newyork.cbslocal.com/2014/05/19/experts-mers-virus-still-poses-low-risk-to-general-public/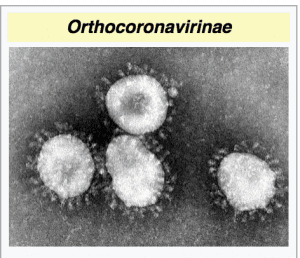 Source: https://en.wikipedia.org/wiki/Coronavirus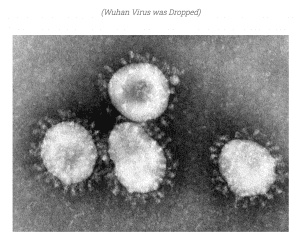 Source: https://ufospotlight.wordpress.com/2020/02/13/chinese-intelligence-officer-reveals-true-magnitude-of-chinas-coronavirus-crisis/

https://www.youtube.com/watch?v=S-CkBVqFjh0&feature=youtu.be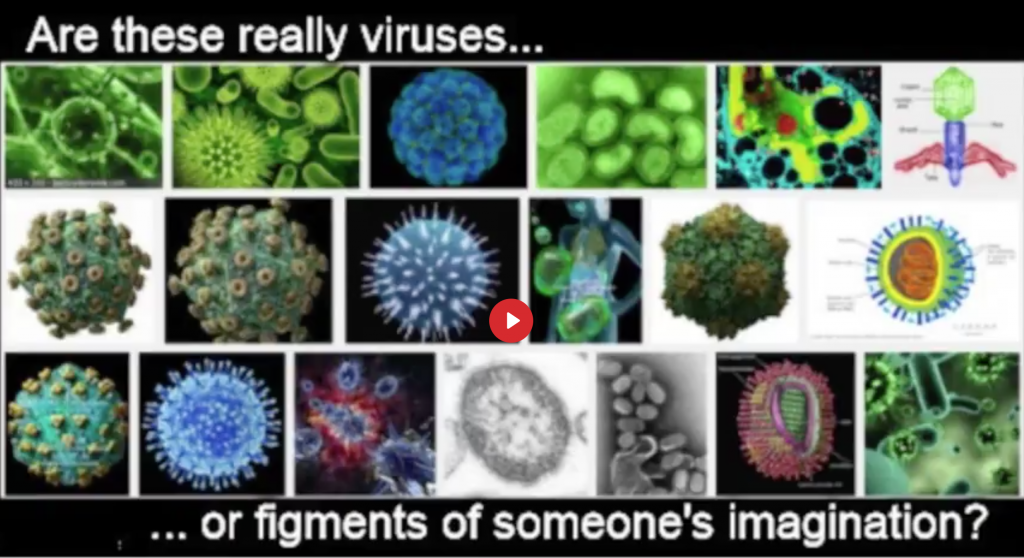 11. THIS ENTIRE CORONAVIRUS SCARE IS A SCAM AND THE WIRELESS GRID NOW SURROUNDING US IS PART OF A WELL-DESIGNED WEAPONS SYSTEM WHOSE TRUE PURPOSE IS TO DESTROY US!
"Microwave weapons, by stimulating the peripheral nervous system, can heat up the body, induce epileptic-like seizures, or cause cardiac arrest. Low-frequency radiation affects the electrical activity of the brain and can cause flu-like symptoms and nausea."
Source

=======================

"They're going to kill people…by giving them flu-like symptoms [that will] cause fluid in their lungs and pneumonia… Then it's going to cause the body to begin going into convulsions and then heart palpitations. And then the heart is just going to give out."
Source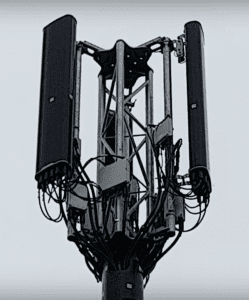 Source
13.  THIS VIDEO SHOWS US THE SOLUTION.  NOTE THAT WHEN THE CELL PHONE CONNECTION IS FINALLY GONE, THE THE PEOPLE FINALLY EXPERIENCE PEACE.  NOTE ALSO THE CRUISE SHIP FLOATING ALONG THE SEA (YOU CAN'T MAKE THIS UP!), AND THE FACT
THAT THIS COUPLE DOES NOT RETURN TO THE WIRELESS WORLD!

https://www.youtube.com/watch?v=XToHkp3mVZ8&feature=youtu.be&t=109
CONCLUSION
WHAT IS HAPPENING IN WUHAN IS VERY LIKELY A RESPONSE TO RADIATION EXPOSURE.  HOWEVER, THE MEDIA AND MEDICAL ESTABLISHMENT WILL LIE ABOUT THIS, CLAIMING THAT THE ILLNESSES ARE DUE TO A VIRUS AND THAT THIS VIRUS CAN BE PREVENTED WITH ONE OF THEIR NEUROTOXIC VACCINES.
DO NOT GET ANY VACCINES!
INSTEAD, GET RID OF ALL WIRELESS DEVICES AND REPLACE THEM WITH WIRED DEVICES, GET RADIATION SHIELDING FOR YOUR HOME, PURCHASE RADIATION SHIELDED CLOTHING, AND DO EVERYTHING YOU CAN TO PROTECT YOURSELF AND YOUR FAMILY FROM EXPOSURE TO WIRELESS AND ULTRASONIC IRRADIATION.
THE MORE PEOPLE THAT BECOME AWARE OF THIS, THE QUICKER WE CAN EXPOSE MEDIA AND MEDICAL ESTABLISHMENT LIES.
The medical establishment continues its ruse, promoting its highly toxic,[i] [ii] extremely dangerous,[iii] [iv] and completely useless,[v] [vi] flu vaccines, yet somehow neglects to mention that the illnesses most people are suffering from have nothing to do with influenza at all, but rather are symptoms of microwave radiation poisoning.[vii]
Source
[i] Gary Null PhD and Richard Gale, The Toxic Science of Flu Vaccines, GreenMedInfo.com, Nov 2, 2016. http://www.greenmedinfo.com/blog/toxic-science-flu-vaccines
[ii] W. Myers, Flu Vaccines are Toxic, MyersDetox.com,  https://myersdetox.com/flu-vaccines-are-toxic/
[iii] Brian Shilhavy, Get Your Flu Shot? DOJ Report From Vaccine Court Reveals Flu Shot is Most Dangerous Vaccine in U.S., HealthImpactNews.com, Sep 7, 2018.   http://healthimpactnews.com/2018/get-your-flu-shot-doj-report-from-vaccine-court-reveals-flu-shot-is-most-dangerous-vaccine-in-u-s/
[iv] Paul Fassa, If You Know Anyone Considering a Flu Shot This Year, Show Them This, RealFarmacy.com.   https://realfarmacy.com/ditch-flu-shot-instead/
[v] C. Del Mar and P. Collingnon, The Flu Vaccine Is Up To 99 Per Cent Ineffective, LifeHacker.com, Jun 8. 2018.   https://www.lifehacker.com.au/2018/06/the-flu-vaccine-is-99-per-cent-ineffective/
[vi] Mike Stobbe, Flu vaccine ineffective for people 65 and older last winter, DenverPost.com, Jun 21, 2017  https://www.denverpost.com/2017/06/21/flu-vaccine-elderly-ineffective/  
[vii] Arthur Firstenberg, Transcript ~ The Hidden Dangers Of Wireless & CellPhone Radiation ~ Audio Interview ~ Part 2,  https://multerland.files.wordpress.com/2019/01/2-the-hidden-dangers-of-wireless-and-cell-phone-radiation.pdf.  Video:  2/4 ~ The Hidden Dangers of Wireless & Cell Phone Radiation ~ Arthur Firstenberg ~ English subtitles, Multerland Youtube channel, Feb 3, 2019,  https://youtu.be/yqxQZZM1K7I
====================================================
Update 3/12/20
The people in Wuhan are openly stating this virus is FAKE.
====================================================
This video reveals how FAKE the numbers are!

https://www.bitchute.com/video/8wxxHr378n2S/

====================================================
MUST WATCH VIDEO

https://www.youtube.com/watch?v=zFN5LUaqxOA&feature=emb_title
====================================================
Update – 2/3/20
The video below should put the kabash on any talk about this allegedly deadly coronavirus being something new — something that threatens the entire world.  An entire charade is now being played out in an attempt for the dark ones to further their satanic control system, including keeping people on lockdown and mandating deadly vaccines.  We cannot let them get away with any of it.  The time is now to say NO MORE!
"Today, America would be outraged if U.N. troops entered Los Angeles to restore order. Tomorrow they will be grateful! This is especially true if they were told that there were an outside threat from beyond, whether real or promulgated, that threatened our very existence. It is then that all peoples of the world will plead to deliver them from this evil. The one thing every man fears is the unknown. When presented with this scenario, individual rights will be willingly relinquished for the guarantee of their well-being granted to them by the World Government." — Dr. Henry Kissinger, Evians, France, 1991