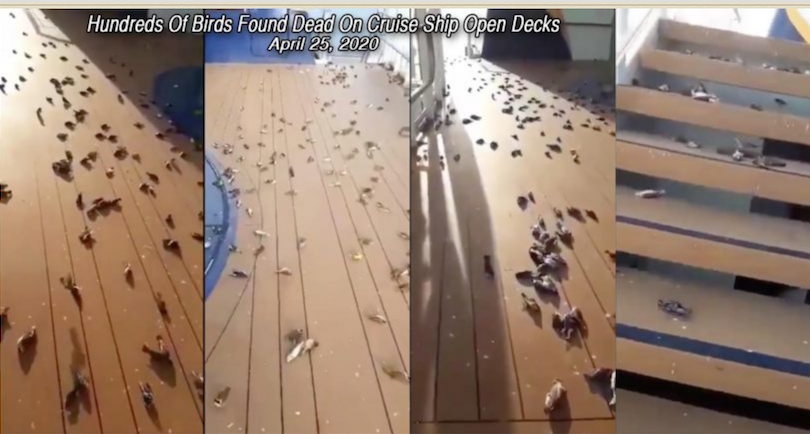 Please keep in mind as you read the article below that cruise ships have been "upgraded" with 5G technology and this is the main reason people are becoming ill on cruise ships and hundreds of birds are dropping dead on the decks.  See video below for more info.
Hundreds of birds were discovered dead on a cruise ship open deck by the crew, yesterday morning. A crew member who wishes to remain anonymous recorded a video of the sight which appears as if the birds had dropped down dead from the sky. There were many birds flying around the ship the night before "It was a beautiful night and we couldn't believe our eyes when we woke up this morning and see so many dead birds all around the ship's open deck" the crew member says.
"We wake up with announcements asking to not go to the open decks. To not touch the birds, and to feed them. I thought that the poor birds we're alive and I didn't went there. I love animals and I didn't want to see them and couldn't help in anything. I still can't stop to cry and nobody give reasonable explanation" says another crew member.
All the crew are stressed from the sight and don't know how to the birds have died. They say this is the first time they see something like this happening on a cruise ship.
[snip]
Also see this article, which states in part:
THE DIAMOND PRINCESS

On February 3, 2020, the Diamond Princess cruise ship was quarantined in Yokohama, Japan after a passenger had tested positive for COVID-19. Ultimately, 2 381 passengers and crew members became sick, and 14 died. It later emerged that COVID-19 had probably spread throughout the ship before the quarantine began. The quarantine — on the ship as in the rest of society — was a futile attempt to control the uncontrollable, like plugging up a hole in a dam, or a thousand or a million holes, while most of the water is actually washing over the dam and flooding on top of us.

On February 3, 2020, the same day the Diamond Princess was quarantined, the satellite company SES put out a press release advertising "the best WiFi at sea" and announcing that Princess Cruises would be using a "hybrid medium earth orbit (MEO) and geostationary (GEO) network" to become "the first cruise ships to access SES's ground-breaking O3b mPOWER satellite-based communications system."

mPOWER uses beam-forming technology and frequencies from 17 to 30 GHz and SES boasts that its satellite system is part of the global 5G network. "We offer the fastest wifi on the high seas making it easier for you to stream movies, stay connected on social media and even text with friends and family on board with you!" advertises Princess Cruises. Each Princess ship has 7,000 sensors, 650 wallmounted touchscreen devices, 1,780 WiFi access points, 4,030 digital displays in private rooms, and 75 miles of cable. The antennas on the ships that communicate with the satellites are huge globes that look like this:

mPower was operating on the Diamond Princess at the time of the coronavirus outbreak. A photograph of the Diamond Princess on February 5, 2020 while it was quarantined in Yokohama shows the five antenna globes that it had on board: